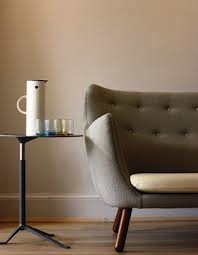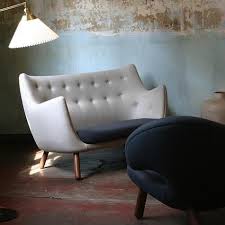 One of my favorite designs is the Poet Sofa, upholstered in warm, soft wool fabrics and imagined as a piece of furniture where you can cuddle up with a cup of coffee, or drop into to read the book review, or sit to take off your stockings.
It has a friendly, classical shape and whenever I see one I have the impression that the arms are reaching out to give me a hug.
The design appeared in 1941, done by Finn Juhl  during the Danish Modern epoch. Juhl used organic forms and soft lines, resulting in a comfortable piece designed with exquisite craftsmanship. Juhl, also an architect, combined the best aspects of the modernist style with curves and soft edges.
Recently, when asked to furnish a client's new home in Venice Beach, the Poet Sofa came to my mind. My client has a deep appreciation of mid 20th Century modern style; her father was a product designer, well known for his slick telephone designs in the 1970s.  She, herself, works as a sound engineer on movie sets,  and survives a busy schedule. A woman in need of refuge I thought, and perhaps something with an industrial touch.
As soon as I showed her the Poet Sofa she was in love. It defines the mood and ambiance of her space, and responds to her desire to keep stress at bay.  Something stylish and a spot for reflection. A perfect match.